The Shrimpers Trust are once again running a 'Big Quiz' this Christmas with a 1st Prize of £150.
The theme for the quiz is 'More Pop Song Titles' and the entry fee is £2.00
As well as the £150 first prize you could also win Four Seats in the Blues' Centre Circle Lounge with Match Tickets* conditions apply, a Bottle of Champagne, a Signed SUFC Shirt and a Box of Sweets.
Copies of the quiz can be purchased using a Debit/Credit Card from the Trust Online Shop by clicking here, (there will be a 95p surcharge for buying online to cover costs and postage).
The Quiz will also be available for cash sales in the Shrimpers Bar on a Match Day.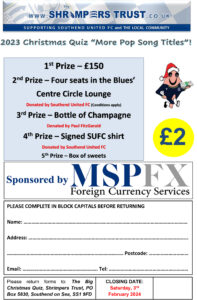 All entries must be received by Saturday 3rd February 2024. Please note that only original answer forms are acceptable and that photocopies are invalid as entries to this quiz.
The Trust would once again like to thank MSPFX Foreign Currency Services for their sponsorship of the quiz and Southend United FC and Paul FitzGerald for their donation of prizes.