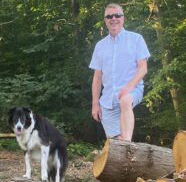 Paul FitzGerald – Chairman
Area I live: South Woodham Ferrers
Work Role: Owner of Software Company
Hobbies/Facts of Interest: Football, Golf, Skiing, Real Ale, Travelling
First Game Attended: 1966 vs Barnsley
Most Memorable Game: vs Man United
Favourite Player(s): Billy Best, Ron Pountney, Stan Collymore, Daniel Bentley, Freddy Eastwood, Michael Timlin, Elvis Bwomono
Where I sit at Roots Hall: South Upper
Match Attendance History: Season Ticket Holder, plenty of away games through my history but recently (ex pandemic) probably only 3-4 a season, due to Border Collie requirements (Helen works Saturday) However I have walked to several away games to raise money for the Trust and various charities!
An interesting fact about me is: I always liked that Proclaimers song and it has featured in my training several times over the years. I'm not quite at 500 in Match Day miles but definitely way past that in training for it.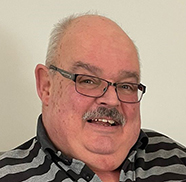 Paul Yeomanson – Vice-Chairman, Membership Secretary
Area I live: Southend on Sea
Work Role: Managing Director of a local engineering company specialising in Instrumentation for Food & Drink Manufacturing / Oil & Gas Production & Refining / Petrochem Refining / Power Generation / Water & Waste Treatment
Hobbies/Facts of Interest: Southend United, Reading, Modelling (of the plastic kit type – not posturing!), Motor Sport (watching), Music
First Game Attended: Home v Plymouth (W3-1, 29/12/72).
Most Memorable Game: Home v Manchester United (W1-0, 07/12/06 – Carling Cup 4th rd).
Favourite Player(s): Andy Ansah, Chris Powell, Paul Sansome, Mark Gower, Dan Bentley, Ryan Leonard.
Where I sit at Roots Hall: South Upper.
Match Attendance History: All home games (work permitting) and as many away games that I can get to.
An interesting fact about me is: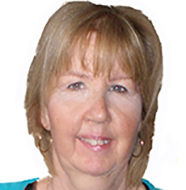 Lesley Hicks – Society Secretary, Away Travel Co-ordinator
Area I live: Hockley
Work Role: Human Resources

Hobbies/Facts of Interest:
Perhaps I should list supporting Southend United as being my main hobby, as (pre Covid) I seemed to spend a considerable amount of my spare time either attending/ travelling to matches or doing something else Southend United related. Having said that I do really enjoy being involved in Trust activities and getting the opportunity to make a difference in support of the Club I love.
In addition to my passion for anything relating to the Blues, I enjoy just mucking about at home loosing myself in general DIY stuff. Whilst knowing my limitations here, I will as a rule have a crack at most things. Fortunately to date I haven't had any significant disasters that I need to report and the house (and street) is still intact.
First Game Attended: I think it was vs Workington AFC in 1972?
Most Memorable Game: 2008/09: Chelsea away in the FA Cup – who can forget the 90th minute at Stamford Bridge. Also our Wembley experience in May 2015. I think I will soon wear a hole in the DVD where I keep re-watching the final few minutes of extra time.
Favourite Player(s): Kevin Maher and also John White and Elvis Bwomono.
Where I sit at Roots Hall: West Stand.
Match Attendance History: I am a season card holder and manage to make it to most home games. I have been a regular away traveller with the Trust since 2007.
An interesting fact about me is: Having researched my family tree, this identified some very interesting findings on my mum's side. It seems that I am related to Andrew Kerins (Brother Walfrid) who was an Irish Marist Brother and founder of Celtic Football Club. Due to a lack of birth records around the time of the Irish Potato Famine (1845) when a large proportion of birth records were destroyed, its taking some tome to establish the exact link – but it's definitely there.
So I guess it's true to say that I have football in my blood! Whilst I do have a soft spot for Celtic and will always watch out of their results, there will however only ever be one team for me and they don't play in green and white.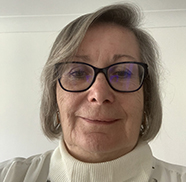 Clare Chapman – Treasurer
Area I live: Leigh on Sea
Work Role: Company Director
Hobbies/Facts of Interest: Football, Reading, Travelling and Theatre
First Game Attended:vs Liverpool – January 1979
Most Memorable Game: vs Man United
Favourite Player(s): Steve Tilson, Leo Roget and Chris Powell
Where I sit at Roots Hall: South Upper
Match Attendance History: Every home and away game for the last 18 years barring illness or holiday and every home game since 1994.
An interesting fact about me is: I met my husband on the away terraces watching SUFC.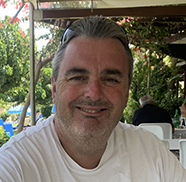 Shane Chapman – Club Liaison
Area I live: Leigh on Sea
Work Role: Plumbing and Heating Engineer
Hobbies/Facts of Interest: Football, Greyhound Racing, Baseball, Pool and Travelling
First Game Attended: Stan Collymore's Debut
Most Memorable Game: vs Man United
Favourite Player(s): Stan Collymore
Where I sit at Roots Hall: South Upper.
Match Attendance History: Every home and away game as possible sine 1992.
An interesting fact about me is:
Rob Craven – Press Officer
Area I live: Prittlewell
Work Role: Football Services

Hobbies/Facts of Interest:
Also an Essex County Cricket Club Member and regular at Chelmsford Chieftains ice hockey. Groundhopper, having seen football played at over 500 different venues. Will watch pretty much any sport, preferably in person!
First Game Attended: 26/03/1993 vs Tranmere Rovers (h) L1-2

Most Memorable Game: 13/12/2003 vs Swansea City (a) W3-2 with an honourable mention to the recent U18s match at Newport County, which ended 8-7 to the Exiles!
Favourite Player(s): All-time: Mark Bentley, Current: Cav Miley
Where I sit at Roots Hall: South Upper
Match Attendance History: Season Ticket Holder since 2002. Rarely miss a home game, although when I do it's generally because I'm covering U18s fixtures for the club. Have attended almost 800 first team fixtures at over 125 different grounds, nearly 500 U18s games and around 150 U23s and Reserve team matches.
An interesting fact about me is: I was Southend United's Fan of the Year in 2008/09.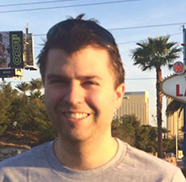 Jon-Paul FitzGerald
Area I live: Stanway, Colchester
Work Role: Supply Chain & Procurement Manager (Insurance)
Hobbies/Facts of Interest: Football is my passion, its in the blood having been forced to "the Hall" from a young age by current Shrimpers Trust Chairman, Paul FitzGerald (or Paolo as I call him!) Any football on the TV I will watch, from Champions League to FA Trophy, even Scottish football … ok maybe not that far.
Keen follower of many other sports in particular American Football where I support the Las Vegas Raiders, a big franchise but with a lack of recent success – I know how to pick my sports teams! The great thing about the NFL is fantasy football if you haven't played, it's a different level to fantasy football as we know it! Not only do I love the Raiders but I love Las Vegas it's a great place (just don't take it seriously!).
Notable other sports of interest include F1, Golf, Rugby Union (Wasps) and Darts. Happy to give most sports a go but my interest is essentially from my sofa nowadays!
When it comes to going out, a trip down the pub is always a nice treat. My personal favourites include (The Three Wise Monkeys (Colchester), Princess Charlotte (Stanway) and Tap Room 19 (South Woodham Ferrers). I am an Real Ale fan and a member of CAMRA, so if you see me out an about (or in the Shrimpers Bar) mine is a Golden Ale/IPA – no lager thank you
Happily married since our wedding back in 2016 on the beautiful Island of Cyprus and have since had our first daughter, Isla-Rose (1) who I hope to bring to Roots Hall soon. As a lot of the parents will know hobbies start to go out of the window with the birth of your children and I even considered adding Kids TV such as Baby Shark to my list of Hobbies!!
Social media addict as so many are and keen follower (and rare poster) of the "Zone". Feel free to connect on Facebook, Linkedin or Twitter.
Twitter – @thefitz87
Shrimperzone – jphfitz
First Game Attended: Unknown – I was in the North Bank with my Walkman and stool!
Most Memorable Game: vs Manchester United / vs Chelsea (away) / vs Wycombe.
Favourite Player(s): Freddy Eastwood, Chris Powell, Simon Royce, Stan Collymore.
Where I sit at Roots Hall: South Upper.
Match Attendance History: Poor Recent Attendance but hasn't everyone ? Will have my season ticket once again for the 22/23 season and hopefully witness our return to the football league.
An interesting fact about me is: I once sang at the Royal Albert Hall at the Proms.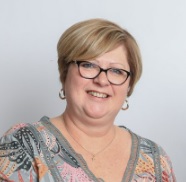 Kay Fogg – Junior Blues Co-ordinator
Area I live: Thundersley
Work Role: Administrator at Williams & Donovan Estate Agents in Benfleet

Hobbies/Facts of Interest:
Football has been a passion since my dad took me to my first game back in the early 70s. I'm a third generation Blues fan and was born at home, in Wenham Drive, within a stone's throw of the ground!
I represented a group of Southend fans as part of team ShrimperZone on Eggheads in 2010. I got stuck with the round no-one wanted – Art and Literature – predictably, I lost my round against Barry! We got two members through to the final round but unfortunately, we lost!
Apart from football, I enjoy reading, cooking (big fan of Tom Kerridge and Tommy Banks), taking part in quizzes of all types, meeting up with friends socially and the odd glass of wine or beer (proper stuff!) or two, preferably over a decent meal – we try to go out to one really decent restaurant each year.
First Game Attended: I've no idea other than it was the 71/72 season though – I remember seeing both Bill Garner and Billy Best when I started coming along.
Most Memorable Game: Losing 1-0 at Derby in the 5th round of the FA Cup Valentine's Day 1976 then taking it out on Brighton by beating them 4-0 3 days later – all the goals scored by Peter Silvester!; the 4-1 defeat at Southampton, the "Alan Ball" game; the 0-0 Liverpool FA Cup 3rd round match in snowy January 1979; Freddy's 1st game, beating Swansea 4-2; beating the mighty Man U; the draw at Chelsea in the FA Cup, plus the League 2 Play Off final against Wycombe as well of course – Piggy's 121st minute goal and then the penalty shoot out!
Favourite Player(s): All time favourite – Freddy Eastwood. Worthy mentions to Terry Nicholl, Stuart Parker, Adam Barrett, Mervyn Cawston, Alan McCormack, Kevin Maher, Ryan Leonard and Anthony Wordsworth.
Where I sit at Roots Hall: West stand, Block U, right level with the half way line.
Match Attendance History: I'm a Season Card Holder at Roots Hall, and we try to go to a couple of away games each season, but it's quite difficult as hubby is a busy taxi driver. We try and have at least one away game where we do a "stop over",

An interesting fact about me is: I used to take groups of children up to SM:tv on a regular basis and bake cakes for Ant and Dec which they mentioned on air! I was there with some children on my 40th birthday and the whole studio sang Happy Birthday to me, including the presenters!
I met my husband, Kevin, on a mutual friend's status on Facebook, our first date was Millwall away in 2010, our 2nd was Colchester away a few weeks later!
My hubby's cousins are the Charlton assistant manager, Johnnie Jackson and Joel Stoker, lead singer of the group The Rifles.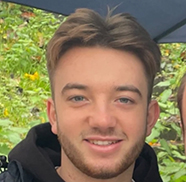 Ben Humphrey
Area I live: Billericay
Work Role: Apprentice in HR Consulting
Hobbies/Facts of Interest: A third generation Shrimper, after my Grandad and my Dad. I love watching Southend, week in-week out. I even miss social events with friends to go to matches. I am very sport orientated and will watch most if they're live on tv. I also enjoy watching cricket, both Essex and England and Formula 1 too.
First Game Attended: Southend 2-1 Stockport, 2010.
Most Memorable Game: Southend United 1-1 Wycombe Wanderers (AET), Southend win 7-6 on penalties.
Favourite Player(s): John White.
Where I sit at Roots Hall: West Stand, W Block.
Match Attendance History: I got my first season ticket for the 2010/11 season, aged 6. I have had one ever since and as I grew older, Dad started taking me to local away games, like Barnet and Dagenham. Over the last 6 years or so, we have been going to away games much more frequently, probably missing 2/3 games a season. I go to matches with my Dad, my friend Ollie and his father, Paul. Growing up with friends who support significantly larger sides, at times it was hard, but now I can't imagine anything other than supporting the mighty Blues.
An interesting fact about me is: I gave up the chance to play semi-professional football and earn money, to watch our beloved Southend United.
When I was born, Dad signed me up to the Junior Blues. At the time I was the youngest ever member. (Not sure if that's still the case).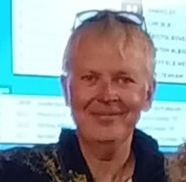 Andrew Leeder – SUEPA (Southend United Ex Players Association) Organiser
Area I live: Swanage, Dorset
Work Role: Gardener

Hobbies/Facts of Interest:
In July 2014 I had a life-changing event by making my main hobby, gardening, my job (for the 30 years before I was a pensions consultant). This has proved to be a great decision and has made me realise that you need to take definitive actions to make things happen otherwise life can all too easily pass you by.
In 2015 I totted up the number of grounds I had visited and hatched a plan with my son Jim to visit those left to achieve the holy grail for all football fans, namely visiting all (then) current 92 league grounds. I completed this in April 2016 with a party up at Blackpool and used that ambition to achieve another, namely to write a book. 'Roots To The 92' has since clocked up over 2,000 sales and I use it now to raise funds for various causes.
Marketing that book has changed completely my football-watching experience as I have met so many people through it and got involved in many new initiatives, one of which led me to joining the Shrimpers Trust Board in 2017. Whilst at Blackpool I met one of my footballing heroes, Derek Spence (who I had helped to chair off the pitch in our promotion-clinching win at Torquay in 1981) – we got on so well, and Derek agreed to write the Foreword to my book (I subsequently helped him to publish his own autobiography). I then arranged for Derek to come back to Roots Hall as a club guest which he did at the end of the 2016/17 season with his old strike-partner Keith Mercer. We got talking about old team-mates, one of whom. Alan Moody, I had recently learned had to go through a life-changing operation to save his life I then got in touch with the club about running a tribute campaign for Alan and in September 2017, working with the Shrimpers Trust we held a series of 'Moody Blues' events which resulted in over £11,500 being raised to help buy Alan a specially adapted car to meet his new needs.
We then arranged for Alan to return to Roots Hall, organised for many of his old team-mates and friends to be there, and the event went so well we thought it would be a good idea to do more and so in January 2018 The Shrimpers Trust formed SUEPA.
It has since gone from strength to strength and as of 1 May 2023 has 451 current ex-player/coaching staff members making it quite possibly the largest former players group in the world. SUEPA not only re-connects former players with each other, the club and the fans, but also does community work, raises money for charity, helps former players in need, and is a great way of engaging fans with the club's past to create new memories.
Quite simply, SUEPA is a joy and a passion, and I have ambitions to take it further via the Professional Footballers Association and the setting up of a national forum.
I truly believe that SUEPA is a huge club asset and that it is something that the club should cherish.
First Game Attended: 26 March 1971 v Notts County.
Most Memorable Game: 8 May 2006 v Bristol City.
Favourite Player(s): Dave Worthington.
Where I sit at Roots Hall: East Stand.
Match Attendance History: Living in Dorset for the last three years I now attend approx. 20 games a season (home and away), but before the held a season ticket for many seasons attending with my eldest son Jim. My first season ticket was back in 1977/78. I moved away from the Southend area in 1978, since then living in Chelmsford, Plymouth, Bristol, Colchester, Ipswich and now Swanage. Throughout that time I have regularly watched the Shrimpers home and away, my attendance fluctuating with the usual demands of work and family life as well as location. I suspect that, overall, by now I must have been to around 1,000 Southend United matches. My earliest memory is of the flared trousered pitch invasion by Southend and Aston Villa fans in the FA Cup tie back in November 1971.
An interesting fact about me is: I was the tallest Little Chef chef in 1979.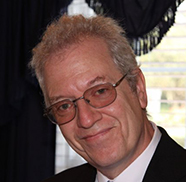 Alan Perry – Fundraiser
Area I live: Leigh on Sea
Work Role: Retired
Hobbies/Facts of Interest: Ten Pin Bowling
First Game Attended: vs Watford 1960 ish

Most Memorable Game:
vs Swansea away midweek. Won the game despite having three players sent off with Mark Warren scoring despite our depleted numbers.
Favourite Player(s): John McKinven
Where I sit at Roots Hall: South Upper
Match Attendance History: I attended my first match aged seven. Regularly attending till age 14 at which time girls became more interesting than football. In 1996 I returned to Roots Hall for the first time in 30 years as I managed to get my 4th son interested. Attempts to interest the older three boys had been unsuccessful!
Have missed fewer than 10 home games in the last 25 years apart from the Covid break and have visited more than 70 stadiums to watch Southend play away.
An interesting fact about me is: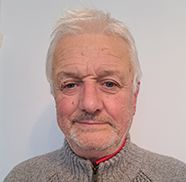 Gary Williams
Area I live: Leigh on Sea
Work Role: Retired

Hobbies/Facts of Interest: Married with three children.
Job role before retirement was Contract Manager (Morrison Utility Services).
My hobbies are football (used to play but now watching) motorcycling, bowls, music, art (as in painting), travelling preferably in motorhome.
First Game Attended: vs Bristol City (home) 15/10/1960.
Most Memorable Game: vs Liverpool (Home) 10/01/1979 FA Cup 3rd Round.
Favourite Player(s): Derek Woodley, Mike Beesley, Trevor Roberts, Eddie Firmani, Eddie Clayton, Phil Chisnall, Sammy McMillan, Billy Best, Gary Moore, Bill Garner, Derek Spence, Mervyn Cawston, Dave Cusack, Kevin Maher, Stan Collymore, Freddy Eastwood, Adam Barrett, John white.
Where I sit at Roots Hall: West Stand

Match Attendance History: I was introduced to SUFC through my grandfather and father back in the 60s, when I was let loose, I used to stand in the North Bank.
I attend all matches home and away and still hope to in the future, I have received two top traveller awards, there would have been a third but COVID put paid to that when that particular season stopped.
An interesting fact about me is: Myself and two colleagues received a commendation from the Post Office and Essex Police for thwarting a robbery on a Post Office security vehicle at the Safeway store (which is now Iceland) on the London Road, Leigh-on-Sea.