Today the Shrimpers Trust publishes a paper, 'Dereliction and Decline: The Story of Southend United under Ron Martin'.
This paper, published to coincide with a session at the Conservative Party Conference entitled 'Playing by the Rules: The Governance of English Football', is the culmination of years of work from fans of Southend United Football Club and highlights both the importance of the club to its community and the plight of being subject to the 'Martin Model' of football club ownership.
Under the tenure of Ron Martin, Southend United has suffered:
Numerous winding up petitions from HMRC.

Multiple relegations, including dropping out of the English Football League for the first time in 100 years.

Accounts being filed late on multiple instances, and suppliers going long periods without pay, including players and staff.

The stadium, built by the fans and donated to the club, was asset stripped from the club by Ron Martin and neglected, mothballed and allowed to fall into an unacceptable state of disrepair, with only to hard work of supporters and local tradespeople ensuring it was ready for the 2023/24 season.
We believe the experiences of Southend United fans align with those at Scunthorpe United, Reading, West Bromwich Albion and countless others over the years. We ask that the Government take this paper into account when looking into how proposed regulation may take shape and continue to monitor our current situation, as it hopefully transitions out of the 'Martin Model' into a fit-for-the-future ownership structure.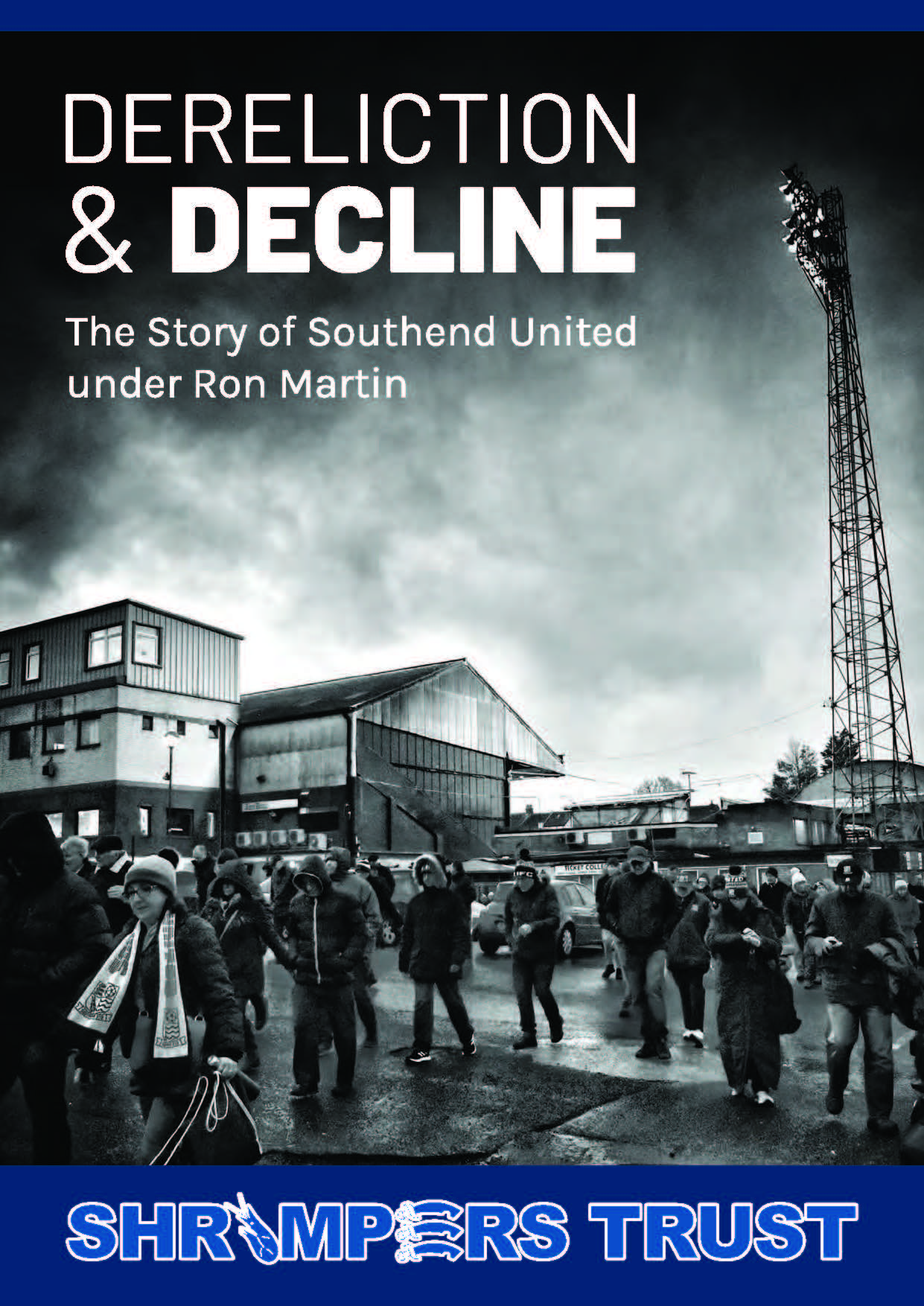 The paper concludes with the following for the football regulator:
Conclusions
Fans are not customers; we are the key stakeholders in the football clubs. Grounded by the past, obsessed with the present, concerned for the future. Fans have been considered a nuisance and a financial tap for too long

Football clubs are not businesses, they are cultural heritage assets born of and represented by their communities in a sport invented in England, a country regarded as the home of fair play.

Ron Martin is a symptom of a broken ecosystem. His actions could destroy a 117-year-old local institution but, without wider, sustainable changes, another may be just around the corner as Bury FC found out in 2019 and Scunthorpe United are witnessing now.
Recommendations
The most powerful form of regulator is a club's own fanbase. The independent regulator will not be required to intervene if a robust structure of material fan involvement and ownership can be implemented.

Opaque corporate structures, including offshore shareholdings, cannot be permitted. Fans are expected to put their hands in their pockets for clubs, they deserve to know how that money is being used.

Football clubs are most commonly exploited for their bricks and mortar assets. Local authorities need powers to protect those assets from being used as a bargaining chip for private gain.

Fans deserve to be organised and educated on the risks that club custodians present. Formal education and training should be given to each clubs' nominated fans organisation by the independent regulator to allow for relationship forming and ground up vigilance and management of problematic custodians.
You can read the full paper here: Dereliction and Decline: The Story of Southend United under Ron Martin
The printed version of Dereliction and Decline can now be purchased from our online shop here for just £7.50 plus postage & packing.
The booklet will also be available to order from the Trust stand in the Shrimpers Bar on a match-day.
The booklet is A5 size, full colour and has over 50 pages.