The Shrimpers Trust can now reveal the results from the September edition of our new monthly survey for members on matters relating to Southend United FC and the Trust's operations.
On Wednesday 6th September we sent five questions to our adult members, which were as follows:
Q1: How do you feel about the principle of protesting about the ownership of Southend United FC?
Q2: Would you participate in specified forms of protest?
Q3: If there was an opportunity for supporters to obtain a stake in the future operation of Southend United FC, how much would you be willing to contribute on a monthly basis?
Q4: Should the Shrimpers Trust commit any funds to Southend United FC during the current situation?
Q5: If away games were screened at Roots Hall, in the Shrimpers Bar, how likely is it that you would attend?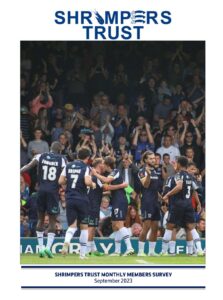 398 members (40.61% of the total adult membership) took the time to respond, and we again thank everyone for providing their feedback and participating in the survey before the deadline of 5:00pm on Wednesday 13th August. This represented an increase of almost 50 respondents from the August survey, although with an increased adult membership, the percentage responding dropped marginally.
The results have again provided the Shrimpers Trust Board with important information to take forwards. There was a clear indication that the majority of Shrimpers Trust members (almost 90% of respondents) agreed with the principle of protesting against the current owner of the football club, Ron Martin. Only 12 of the 398 respondents to this question did not agree with the principle of protesting.
In relation to the forms of protest, there was clear support from respondents for symbolic protests, with 286 respondents (72.59%) saying they would participate in actions such as chanting or holding up signs and banners against the club's owner.
A further 211 respondents (53.55%) stated they would participate in visual protests such as posting on social media or leafletting. There was much less support for disruptive, mobile or personal action and 66 respondents stated they would not participate in any form of protest.
Moving on to potential monthly contributions in return for supporters to purchase a stake in the future operation of Southend United Football Club, 92.13% of respondents indicated they would be willing to contribute if the opportunity arose.
Although we were not asking for pledges, the indication was that almost £8000 pounds per month, translating to almost £100,000 annually (£95,616) could be raised from those that completed the survey. The most popular potential monthly contributions were £10 (29.44%) and £20 (28.93%).
Respondents to this survey were split regarding the question of the Shrimpers Trust committing funds to the football club during the current situation, with 190 (48.84%) agreeing and 200 (51.41 %) disagreeing. This result was inconclusive.
Finally, almost 50% of respondents stated it was unlikely they would attend screenings of away games at Roots Hall. 120 of 397 respondents said it was highly unlikely they would watch and 76 more suggested they were somewhat unlikely to do so, with a further 73 undecided.
Full results and analysis from this and previous surveys can be found by clicking on the appropriate link below.
We welcome any questions Trust members would like to set out to the fanbase, please do get in touch with us if there is something you'd like to see put to the members. We look forward to continuing this process and diving deeper into what makes us tick and what we want to see for our club, furthering the long tradition of vocal, informed supporters of Southend United.