Following the latest adjournment, Ron Martin released another statement showing a lack of care or compassion for our loyal staff who have not been paid in 4 months in some instances.

Staff had good reason to expect back payment by the 12th July as the Club posted the following as a final paragraph on their previous statement (5th June) "In short, the petition debt and sums due to staff must, and will, be paid before 12th July 2023."
The Owner appears to have zero empathy with the people who work for him. They have bills, rent and mortgages to pay, they have families to feed and all at a time of a cost-of-living crisis. Despite this, they are treated like they do not matter.
Well, they matter to us.
Staff have shown extreme loyalty to the club and we can confirm we have begun the process of making payments to applicants with fundraising now having surpassed the £5,500 mark.
Thank you for all your generous donations, it has really made a difference to people in our club and community.
We must not stop here; we have only been able to help a small number of staff and there does not seem an end in sight to this fiasco.
We now continue to ask for your support in helping us with the hardship fund.
The link to support this is here, alternatively you can scan the QR Code to the right.
If you are unable to contribute or have already made a contribution, please share as widely as possible and if on social media, even tag some of your favourite accounts. It really helps in spreading the message and is extremely appreciated.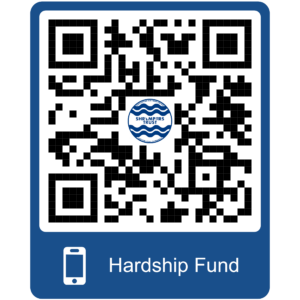 To any staff member reading this, thank you, we stand ready to help you with our hardship fund. Please make contact us via DM or email us at chairman@shrimperstrust.co.uk to find out more. Your identity will be treated in the strictest confidence.
The Shrimpers Trust Board