On 10th February 2024 the Southend United Ex Players Association (SUEPA) are running another event to be held at the Essex County Bowling Club in Westcliff.
The event earlier this year for Dave Smith was a sell out and a great success, and this one will be run along similar lines.
It will be hosted by Glenn Pennyfather in a 'stories and memories' evening with Peter and many of his former teammates from his early 1970's SUFC playing days and those that played under him in the mid 90's at Roots Hall.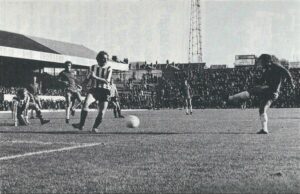 So far we have 19 former players lined up to come along – Ray Ternent, Micky Beesley, Dave Barnett, Kenny Reynolds, Peter Hunt, Dave Worthington, Graham Bressington, Phil Gridelet, Paul Sansome, Dave Regis, Andy Thomson, Shane Westley, Harry Willis, Adam Locke, Steve Tilson, Mark Hone, Declan Perkins, Andy Ansah and Mr Southend United himself Frankie Banks. Ex-player attendees are subject to change which is beyond our control – you can keep up to date with news on SUEPA social media.
From feeding the likes of Best, Moore and Garner with crosses, to FA Cup heroics at Crystal Palace, to playing with Hoddle & co at Spurs, to managing England, and taking on over 20 other managerial posts, there are stories by the bucket load to share and enjoy.
All profits on the night will go to the Shrimpers Trust, and a sizeable donation will be made to the Bobby Moore Prostate Cancer Fund.
The event kicks off at 7.30 pm with arrivals from 7.00 am (so, after the home match scheduled v York that day). It will end by circa 10.00 am, with a bar extension running through to 10.45 pm.
Dress code is casual – anyone wearing a SUFC shirt on the night will be given the opportunity to be part of a group picture with Peter and all of the other players.